Whenever I look up lightsabers (or anything Star Wars), I find one of several ads pop up. All to do with buying your own lightsaber.
Founded in 2008 by Phillip Isherwood, Saberforge has gone from a one man hobbyist working in a closet to a whopping 15,000 feet of shops and roughly 50 employees, located in Oregon City, Portland.
Saborforge started with lightsabers and has increased its range in products. With most looking like they could be from the films.
They offer blasters, masks, cosplay elements, an Etsy store, mystery boxes, and apparel. The range is long and no matter how far your inner nerd is, you'll find something to love here.
This is not a cheap toy. This is a beautiful work of art, (and I want one)! But, if one of my friends (or a random person) comes to me and wants to duel… can I trust the Saberforge brand to handle it?
Sadly, I don't have a lightsaber yet. Everything you will read or watch with the links is based on real customers.
I will share my opinions and, (control myself so I don't spend my paycheck), fall back on the internet to show you proof. Just how good is Saberforge?
Is it worth it? What about the many other companies that make lightsabers? Is there anything we should avoid or know before buying?
Will I make Saberforge my first lightsaber purchase? (I don't know, but the website is gorgeous to look at)!
Who Is Saberforge For?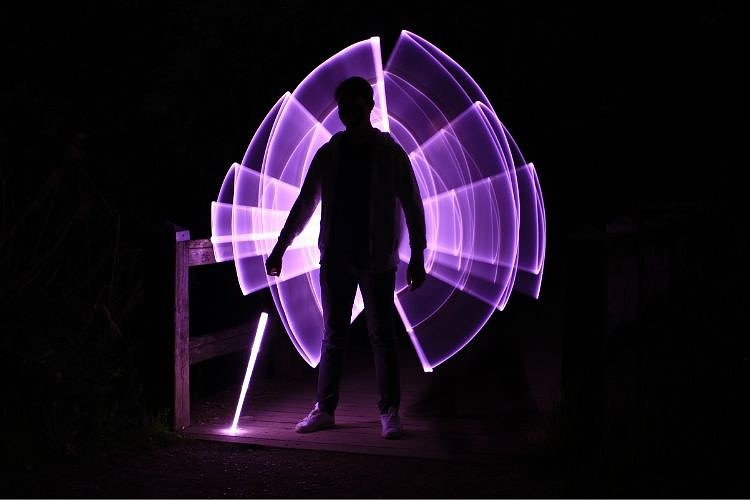 I want to say everyone, but this gears more towards adults. (I'm not saying you can't buy their products for a child, but most of the items are very expensive).
Saberforge is for the collector, the duelist, the ones who will drown themselves in Star Wars, and the ones who refuse to believe that they can't use the Force.
Let's say that you can only buy one lightsaber, (for the rest of your life). Just one. If you want something to hold and look at, I'd go somewhere else.
Saberforge lightsabers are very cool looking but the cheapest empty hilt (no blade or any of the fun stuff). Is going to cost you a pretty penny.
You can get other lightsabers cheaper with other sites, but not all of them are duel worthy. (I've seen a lot of fantastic lightsabers out there, a lot of sites have great selections).
If you want to duel, but you're new and you don't know how to fight, Saberforge is a good place to start.
All of their hilts are made out of high grade aluminum (think airplane grade), and the blades are made out of polycarbonate material. These lightsabers can take a pounding, but they will break if you get too rough.
How strong are Saberforge blades!? Can we break it?!
Which Product Lines Are There And Their Overview Features?
I'm going to focus on the lightsabers, so please keep in mind that Saberforge has other products, and is adding more at a decent rate. There are about 70 sabers and six types at the time of this writing.
Starting from the cheapest.
Eco. A lot of features and the easiest on your wallet. These lightsabers are unique and perfect for starting a collection, or learning how to duel.
Apprentice. Meant for speed and complete customization. Perfect for full contact dueling.
Elite. Bigger hilts and more of everything! (This is also where you start to see some familiar lightsabers under a different name).
Exotic. This is where you'll find the battle staffs, dual-bladed, and crossguard (Kylo Ren). The selection here isn't large but the details are breathtaking.
Crystal. The most complex to build. These lightsabers come with, (you guessed it), a crystal inside that is also customizable!
Adaptive Saber Parts. If you can't find something you like, make your own. (This can start cheap and is perfect if you're looking for a single part. But be warned, not every ASP is compatible with every hilt. Always check first before you buy).
SaberForge showroom tour!
How To Use And Get The Most Out Of Your Lightsaber?
With customization comes electronics and headaches. I like directions. I like looking at everything in the box. Or in this case, a website.
If you buy one of the first five lightsabers, it will come to you with whatever effects (sound, color, fonts, and hilt) that you purchased. The ASP, however, will arrive in parts that are user-friendly.
This works great if you want to take your time and build your dream saber. There are plenty of youtube videos to help you as well.
Saberforge DIY Kit with Golden Harvest
You can also mix and match from other companies with customization, (not all of them, so check before buying).
I would write more, but I'm neither a tech person nor a lightsaber owner. So, I'll link another vid here for you.
Saberforge Adaptive Saber Parts Lightsaber Construction
Customer Service Reviews/User Reviews
This is the hardest part of the article. I can't tell you how many videos and sites I've looked at for this.
But sadly, this is where a red flag pops up. On Trustpilot, Saberforge has 99 reviews, (at this time but more are being written every day), with roughly half being excellent and the other half being bad.
On Sitejabber, they have a rating of 4.61 stars. The two things that people complain the most are the customer service and the shipping time.
The average shipping time is between 4 to 8 months, but this can be longer or shorter depending on how much customization is in your lightsaber. Saberforge makes their lightsabers themselves, except for the new Youngling ones.
So, a long wait time isn't surprising. However, it's hearing from Saberforge concerning progress and questions that seem to be the problem.
Saberforge has made changes concerning this, but this rule still seems to stand. Your email will go unanswered for roughly five to seven business days (sometimes longer).
Sometimes, they'll send an automated email that you must respond to and then wait some more. Once you get a hold of someone, they are rated highly for politeness and are quick to help you.
If you're just trying to get a cool lightsaber with effects, check out their Etsy store. Less customization but faster shipping. Saberforge also ships internationally.
How I got my SABERFORGE lightsaber in LESS THAN 3 WEEKS!
Alternatives Or Competitors
There are too many to list, but the ones that pop up the most are Zia sabers and Ultrasabers. Other popular companies are Sabertrio, Vader's Vault, Kyber lights, and The Patch.
Mu Cephei ZIA Sabers lightsaber
At the moment, Saberforge has the most lightsabers available, but these sites are worth checking out. (I found lightsabers based off of Sailor Moon and The Thundercats! Don't miss out on them).
Besides the selection, there's not a whole lot of difference. All of them have dual-worthy lightsabers with awesome sound effects.
Price differs between products, but if you can only afford one for the rest of your life… (I want the Sailor Galactica)!
Are Saberforge Lightsabers Good For Dueling?
They are, but they can break if you get too rough. Saberforge's website says that all of their lightsabers are good for dueling.
However, I've come across two reviews saying that the Eco line isn't the best for dueling. All of their lightsabers are made from the same materials.
Are Saberforge Eco sabers duel worthy? Let's explore that question.
Saberforge Aggressor Eco Review
The only differences between the Eco and the other lightsabers that Saberforge makes are the number of electronics inside and the design of the hilts. As long as you keep that in mind then any lightsaber from Saberforge will last you a long time.
Conclusion
Saberforge is one of the top companies making lightsabers. I'm excited to see what they'll do next, (especially if I'll be able to afford it). The only downside is that their home site can't list character lightsabers (copyright).
But you can still find the right lightsaber to complete every cosplay and duel with. It all boils down to money and wait time. Thank you for reading and may the Force be with you.